Ven. Yeshi Dorje, a renowned Tibetan monk-artist, will be offering a Tibetan drawing and painting workshop. The workshop is free and not for credit. It will meet Tuesdays and Thursdays, 6:30-8:00 pm, April 22-May 29, 2008. Enrollment is limited, and advanced registration is required. Interested students should contact Rohit Singh (rohitsingh5@gmail.com).
Photos of Tibetan Art Workshop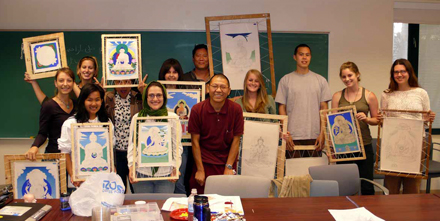 Comments from Students in the Tibetan Drawing and Painting Workshop
• "I LOVED the Tibetan painting workshop. I looked forward to every Tuesdays and Thursdays. It was such a great pleasure getting to know Yeshi. When I visit him every Tuesdays and Thursdays at the Asian Resource center, he just makes me so happy and puts a smile on my face. Yeshi was such a great help and had interesting teachings about Thankgas. Overall, the workshop was great--it could not have been any better -- unless, maybe it lasted for a little longer! But besides that it was absolutely wonderful. Thanks again, Jose, and thanks to the Rubin Foundation for making this workshop possible."
• "Learning about the art of Thankga from Yeshi Dorjee was a wonderful opportunity that I will treasure. I've learned that it is possible to calm the distractions and busyness within one's mind by merely dry shading! Painting becomes an outlet for stress, and almost feels like a prayer. Also, I must praise Yeshi, for being a patient and kind teacher… always such good company. I feel like a better person learning from and being in the presence of this fantastic human being."
• "The thangka class at UCSB is a once in a lifetime experience and I consider myself so fortunate to have taken it."
• "I loved the thangka class with Yeshi! I always looked forward to going and I will continue working on my thangka over the summer. I really hope he comes back for another workshop because I would definately take it. Yeshi is very sweet and helpful, and he is a wonderful teacher."
• "As a prospective graduate student with interests in Himalayan art history and art conservation, this class was absolutely invaluable to me. Yeshi was able to walk us through all the steps involved in making a thangka painting using traditional methods and materials. Among the skills taught were: sewing and stretching the silk or cotton onto stretcher bars, sketching the image using the correct proportions and center line, preparing the surface, dry shading, wet shading, and application of gold paint. He also ensured that we had some understanding of the postures, colors, mudras, and backgrounds that were appropriate for specific deities. Because I had a special interest in learning how to make real gold paint from gold leaf, Yeshi offered to spend the necessary six hours it would take to teach me one-on-one outside of class hours. Only in Asia, would one typically have the opportunity to learn these specific techniques in such depth. All in all, the knowledge and hands-on experience I gained from this class is unique and precious. Additionally, I would be remiss not to mention the convivial atmosphere Yeshi's presence created in our class. His warmth and generosity encouraged an environment of good will, respect and sharing that I have never seen in any other course on campus."
• "I just absolutely loved this class. Being an art history and studio art majors, I have taken a lot of courses about art. This was the first art class where I truly loved going to class every single day. I am not one to go to office hours or even make any contact with my professors outside of class. But, I found myself constantly bugging Yeshi about my tanka and wanting to learn more about Tibetan art. The environment for this class was so peaceful. Everyone truly wanted to be there and they were all willing to share or let you use their materials. I have never been in a class where strangers cared enough for me to let me use their supplies. Yeshi was understanding, fun, helpful and encouraging as we fought our way through traditional Tibetan techniques that were new to all of us. There were several times while making the tanka that I felt like I giving up. Through Yeshi's help I did not give up and I was able to finish my tanka. I have proudly showed it off to all my roommates and friends. I am graduating in a few weeks and I must say this has been one of the best classes I have taken at UCSB. Thank you for the opportunity to take this course."